MEASUREMENT AND AUTOMATION
Your external electronics lab
Industria 4.0 Industrial Internet of Things (IIoT).
Industry 4.0 is the current stage of industrial automation that connects factory equipment as part of the
I
ndustrial
Internet of Things (
IIoT
).
Adding intelligence to your existing process allows you to monitor and control equipment in real time. A higher level of supervision is introduced for the visualization of the performance of the production system and for the acquisition of significant data.
The creation of a data model leads not only to the optimization and continuous improvement of the lines, but also allows you to set up a model for
predictive maintenance.
Bundle is able to support companies in choosing the best solutions to automate and optimize measurement and control systems, and make their systems compliant with the Industry 4.0 model

.
High-speed data acquisition systems for complex applications.
Data logging, analysis and reporting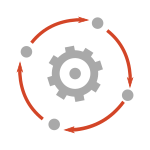 Software development and design of electronic circuits for monitoring and control of industrial equipment and machines

Systems that perform automated inspection, alignment, online image processing and motion control.